streetboard & snowboard article archive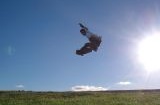 Hello and welcome to Dom-Ebel.com - the online record for South Coast Streetboarders and the Flipside Streetboards Tours.
Please find all archived articles from dom-ebel.com below - documenting the last five years of streetboarding and snowboarding exploits, plus the Flipside Tours articles.
The aim of the Flipside Tours was to skate the regions parks and streets in the countries we visited, spend time in the community and represent for our cause, introducing snowboarders to the cross-training benefits of streetboarding!
The South Coast Streetboards collective is a group of likeminded streetboarders living near Bournemouth in Dorset on the south coast.
This archive section documents:
2015 South Coast Streetboarders and snowboarding
2014 Snowboarding, skating, instagram and fatherhood
2013 Snowboarding & skate action
2012 Winter snowboarding & summer skate antics
2011 Winter boarding & summer skating
2010 Boarding in Europe
2009 Ripping up the UK
2008 Canada Tour: 'Boarding in B.C.
2007 At Home with Flipside UK
2006 NZ Tour 2: Return to Wanaka
2006 Morzine season: CJ & I in the Portes de Soleil
2005 New Zealand Tour: Flipside rider Andy Garrett & I touring NZ
The archive will act as a sitemap for all the articles written - the places we visit, the parks we skate, and the people we meet. Check back here regularly to follow our trip and catch up on news, or just browse to see where we have been, and what we have been up to...