tuesday 30 june
New Andover skatepark

Earlier this month I checked out Andover skatepark with Tim James and Simon Johns, and what a sweet little park it is.
With an unusual street section including a driveway with gap ball feature, long curved ledge, step up, 3/4 bowl spined to mini, flat-down hubba and a flatbar rail its a great set up.
The location being a natural suntrap, and its almost perfect - almost. Apparently Maverick tried a different surface when they constructed this park, and the resulting finish is very slippy - its very easy to slip out with an overzealous movement or if spinning on landing.
LDN Calling street riding competition
In other matters,on the Saturday 2nd May Pat Murray & I had the pleasure of attending the LDNcalling skate tour - a group of international riders hitting street spots and parks across London organised by Colin Horan .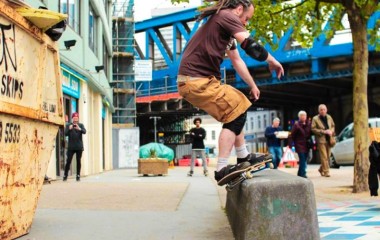 We met Southampton rider Lewis Langford at Southbank, and spent a few hours sessioning the blocks there - Pat snapped a bar upon arrival, but we sorted him out and set about riding with Sergi Nicolas, Tony Alvarez, Colin and the other guys...
My neice Camille's birthday
My little neice Camille had a birthday meal at my Pa's house in Salisbury, so CJ, Violet and I drove over with Mum for dinner.
We spent a lovely afternoon with the family all together and it was great to see Violet and Camille spending a bit of time together.
Random fox

I was in Sainsbury's car park, and saw this most unbelievealy tame little fox just wondering around looking for food between all the parked cars.
I tried offering it some jelly sweets and it trotted up and sniffed my hand, before turning around and searching elsewhere - it clearly didn't fancy any high-sugar pork gelatine-derivitive that I had to offer ;)
Well summer's rolling on, so I'll see you all soon...