28th february 2013

Just returned from an awesome skiing trip - massive powder riding in France and Switzerland in two totally different flavours...

I journeyed out to Chamonix and hooked up with my dad Tony, acclimatising for a couple of day in Chamonix before we started an epic powder tour in a big loop across Switzerland from Leysin...

2013 Switzerland Powder Tour article & image gallery

It was an unbelieveable experience riding unknown terrain with Tony & the guys, and we were so lucky with the weather - but all things come to an end, and I was soon heading back to Geneva Airport to meet up with CJ, to return to Chamonix.

CJ & I had a great few days in Chamonix - although the weather was a mixed bag, it brought deep powder that gave us 2 awesome days riding at the nearby mountains.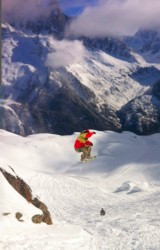 We met Andrew Szabo on the bus - an aussie in town for a few days, he joined us next day at Brevent.
Restricted runs meant we had to explore - we found powder stashes leading to a bowl with boulders strewn around, providing the scope to carve, drop and jump until we could barely move. Time to go back for a Baileys coffee..!
On our third and final day, the sun came out to reveal a blanket of thick snow, and we raced out to get first lines - straight into our first big lift queue of the holiday! :(
We got out the Flegere cable car into bright sunshine, met up with Andrew and got on with the business of riding big powder faces ;)
As the day wore I started pulling out all the stops, going into the gulleys to find big drops. Found a couple of 25ft drops including a cornice and a huge boulder, so spent the day bombing powder runs with the wild abandon that only deep powder brings..!
CJ & I had another fabulous meal in La Nationale - our favourite restaraunt in Chamonix, on the main street through town. Tony had told me that when we first started coming to Chamonix in the late 70's, La Nationale was the best restaurant in all of Chamonix - I can quite believe it...
We had a final drink in Terrace, the wonderful wrought-iron building that overhangs the river just up from the apartment, we bid farewell to Andrew then went back to pack and go home.
Another awesome holiday out in Chamonix ;)