30th july

Well, lots happened since the last article, the first being that I am now a year older! Happy Birthday to Me, etc ;)

I have finally met the "other" streetboarder in Bournemouth - will you plese stand up, Mr.James Kelly!

James is a good friend of Matt Griffiths and Pete Gaulton, and has recently moved into Bournemouth from Somerset.
We have skated together when the weather has allowed, and I have shown him some local parks.
While James's natural habitat is the halfpipe, he has started working on his grinds and tricks on the manual pads.
Unfortunately, we were taking photos at Kings Park, with James getting air over the hip when disaster struck!

James went bigger than before, throwing a lofty tailgrab and sailing up and over, to land on the flat beyond - and slipped out, putting his hand down only to dislocate his elbow...
He manfully braved it out down to A&E, where he was referred to Poole Hospital...
Two days later I got a text that he was just leaving hospital...!
He's doing well, and will hopefully be back and fighting fit in no time :)
It was Jules's birthday a couple of weeks ago (Happy Birthday Jules ;) and George Moy and I went up with him to try out Hemel Hempstead - as I'd heard so much but never been...
We went on a Saturday and there were only about 15 other people on the slope - perfect!
The slope was bigger than I had expected, about 100m long - and while there was only a tiny roller jump and a snow-level boxrail, it was just enough to keep us occupied for 4 hours!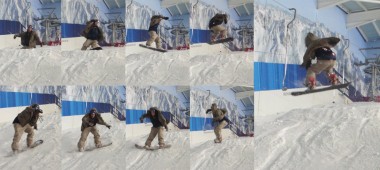 George is a very good skier with very good, precise style, and was bombing around or taking photos, and Jules was doing his first 180's on the mini-jump and claimed his first few railslides :)
We had so much fun, we have decided to go again this weekend and Jules is buying some twintip skis so he can land backwards properly
More on that shortly...