saturday 15th november

Mega-edition with loads of news - but many of the galleries hold the full story and loads more pictures...

CJ and I enjoyed a great stop-over in Seattle - a fantastic city to walk around at night, and plenty of tourist attractions to hold the attention. We visited the Space Needle, the crazy Science Fiction museum and Experience Music Project buildings, the famous Pike Place fish market and the monorail. Wicked day!

It rained pretty much every day that we were in America - but it didn't stop us visiting our good friend Jon Chester from Rossland, in his hometown of Hood River. Jon very kindly played host to us over the weekend, arranging a BBQ with our friends Jay & Liz, Jerad, Pierce, Kyla and Stacy (who had stayed with us in Rossland).
Jon showed us TimberLine Lodge on Mt.Hood, famous for being the "Overlook Hotel" from Stanley Kubrick's "The Shining" - this was one of the high points of the trip for me ;) It was snowing (in October!) when we got to the top, and even though there was a car park out front, and the main entrance was being renovated - it was still instantly recognisable.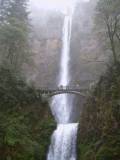 Halfway between Hood River and Portland is the magical Multnomah Falls, a 620ft waterfall, with a second fall below, situated in the Columbia Gorge off the I-84 interstate highway.
Looking like something out of Lord of the Rings, this is the most stunning waterfall I have seen in my life.

We met up with my friend Aaron in Portland - who I had not seen since travelling through Australia in January 2005.
We spent a lovely couple of days in Portland, a much smaller city than Seattle (and more accessible to the visitor).
I had been looking forward to skating the Parks in Portland, but so far the weather had prevented me from streetboarding. A break in the rain on the last day gave an opportunity to visit a couple of skateparks - and I chose to visit Tigard (recommended by locals) and Newburg skateparks (reputedly one of the best skateparks in the world), at the expense of Burnside, because Burnside would be too crowded...
Well - I gotta say that I came back sorely dissappointed, having found Tigard difficult to skate (skateboarder lines, not so good for streetboarders) and Newburg just too small. Newburg was the better of the two, but I found all the park features to be either VAST or small - with no in-between - dissappointing seeing as Tony Hawk claimed this was one of the best parks he has ever skated...
Really made me appreciate the parks we have back here in the UK...

We returned to Canada to move out of our Whistler accommodation and take a 2-day journey on the Rocky Mountaineer - supposed to be one of the best 10 train journeys in the world. Well, WOW! Two days in the lap of luxury, riding through some of the most stunning scenery in Canada, in a train remeniscent of the Orient Express.
The Rocky Mountaineer dropped CJ and I in Jasper, where we spent 3 days seeing Jasper, the Columbia Icefields (the last vestige of Ice Age in Canada) and Banff. Jasper is a famous tourist destination in the heart of the Rocky mountains, and the gateway to the unique Columbia Icefield Parkway - with a very different style of mountains to those in either Europe or the coastal BC mountains (Whistler etc).

We returned to Vancouver to stay with our kiwi friends Logan and Boots, in their apartment in the city centre.
Vancouver is a street-skating mecca, home to the famous Vancouver Skate Plaza. Weather was dry - time to skate...
Vancouver Skate Plaza is a provision for skaters, located in the downtown area under the freeways - much like Playstation/Bay66, but with solely street-style stairs, rails and ledges...
I had a good day out, but was supremely rusty due to not hitting any street at all over the last year - but enjoyed the change. Unfortunately, CJ & I had decided to cut our stay short in order to conserve money and aid job-searching back in the UK, so this was my only day out skating in Vancouver.


Vancouver Airport is worth a mention here, due to the atmosphere provided by the native sculptures and artwork to be found throughout the terminal - helps pass the time, and a welcome change from the bland European decor schemes we are used to.
So we returned to the UK - it was a welcome sight as I think we both had mentally come to the end of our travels, and were looking forward to settling somewhere and enjoying the things that make home, home.
I have met back up with Flipsides Adam Walder, and been in touch with the other riders - and am looking to get back into the swing of riding regularly, as soon as things are settled down on the home-front.

I am well chuffed to get back to my car!
I have got it back on the road and upgraded, thanks to a weeks rebuild with my friend Paul from Rover circles - just have a fuelling issue to sort out, and then it will be my furious wagon again!
So with less than a month to go before the Streetboarding Nationals '08 - it time to get some practise in and some media down.
See you all then!