tuesday 12th june

With so many peeps asking for "a go" whenever we ride - it's time to take streetboarding to the public!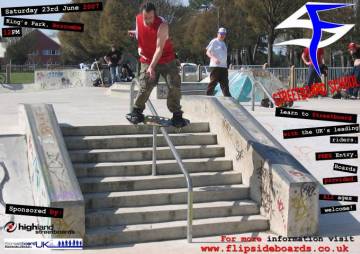 The Flipside Streetboard School is being held in Bournemouth on Saturday 23rd June. With the biggest names in the UK streetboarding scene on hand to demonstrate their spins, flips and rail skills, and take class at school - this should be a great day, if the weather holds out!
This should be a great opportunity to promote our sport - so if you can make it down to the Streetboard School, followed by a bit of beachtime and my birthday party afterwards - we should have a crazy day!
Visit the Flipside Streetboard School page for more details...
Talking of crap weather - Flipside has taken every opportunity to grab some skate time recently...

Flipside riders Adam Walder, Alan "Spal" Shaw, Josh, myself and Colin Horan from Day One Streetboarding took a rare opportunity to hook up at Romsey and spend a few hours throwing down some tricks. Its been over a year since I last saw Colin out in Morzine, and I haven't seen Spal since 2004! How time flies...
It was great to skate with the guys - Spal is taking time out to streetboard New Zealand before settling in Wanaka for the 2007 summer season, and Colin has relocated down to Newquay just in time for Run To The Sun to get a summers-worth of surfing in and work on his tan!
CJ and I went down to Padstow in Cornwall the same weekend as Run To The Sun. Good weekend to choose? Maybe not...

A total change in pace to Bournemouth, Padstow life is centred around the harbour - being a working fishing village on the estuary of the River Camel. With some of the best seafood in the country and Rick Steins restaurants, we had a great couple of days before the weather closed in, and we returned home a day early.
A couple of weekends ago, local snowboard shop "Big Dreams" held a competition at the Warmwell dry ski-slope. Friends Sonia Shaw and Jo Chasteney were judging for the evening, and we had a good Saturday night. Hopefully more comps to come through the summer - time to get the snowboard shizzle down me'thinks...
And most recently, a surprise visit from the recently-returned Paul Nash and friend Nick - trying out Nicks ne camper van... An hour skating and some relaxing on the beach concluded a thoroughly nice weekend.
Anyway - join me at Flipside Streetboard School, i'll see you there...