tuesday 14th november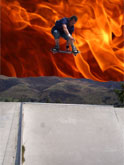 There is just over a week of the 2006 Flipside Streetboard Tour left, so we are preparing to wrap up affairs in New Zealand.
The recent weather has not been as good as last years Spring (blazing sunshine spent on the lakeside!) but there has been loads of streetboarding nevertheless and much footage taken.
This included a trip to Benmore Dam (out towards the East Coast) with Tassie Ben & Jess Beaumont, mentioned last article.
A hydro-electric power station, Benmore has a section of waterpipe mounted at the base of the dam wall as a monument to the dams completion. Perfect...
We had a great day riding the fullpipe, exploring the concrete water pipes and checking out the huge spillway in the baking sun. A wild day and some great shots.
With Tassie Ben & Liz's imminent departure looming, we went for a session at Simons indoor mini pipe. I have featured this miracle creation in an earlier article, suffice to say we had a great time with Tassie Ben, Simon & me busting out some tech tricks on the minature marvel!
CJ recently finished work - we have the last few weeks to spend together, making most of the springtime. We have ridden bikes down the Millenium Track along the edges of Lake Wanaka, and walked up Mt.Iron, a few kms out from Wanaka - when the suns out, life is great here!
CJ & Tomu have both helped me hold a number of photoshoots over the last couple of weeks - windy days have proved perfect to getting top speed on run-ins, hitting big air off the small quarterpipe.
I have been landing some frontside 720s - the wind behind providing extra speed and airtime, to extend the 540 spin an extra 180degrees...
Most of you have heard of the PIPEX web hosting fiasco that happened a couple of weeks ago, and delayed this articles' release - so I'll say no more about that.
But lastly - I have just sold the car, our trusty Subaru Legacy Flipside Tour 'mobile. It served us well, but had to go, with only a few days left till we leave...
Catch you all soon ;o)