tuesday 19th september

Warmer temperatures recently has meant a decline in the coverage and quality of the snow - more streetboarding but a kick up the butt to roadtrip to New Zealands other ski fields!

Treble Cone's famed "Motatapu Chutes" were briefly opened after the Freeride Ski competition, a great days snowboarding only finished when our friend Grant put a hole through his chin into his mouth using his knee - although he was stitched up and lived to fight another day!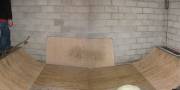 Introducing Wanaka's own indoor mini ramp! Some enterprising individuals built this pint-sized creation in their garage, just large enough to ride and with a removable wallride (not shown) to boot! Sweet..! Skating any time you want, rain or shine!
After not feeling the snowboarding for a while, I started hitting the kickers again, and found renewed enthusiasm for getting up the hill again. I have been worried about hitting them due to the impact on landing, after damaging the meniscus in my knee last year on them - but it seems to be causing no problems, so I am progressing again with care.
Worried about the state of the snow, CJ, Farmer, Rachel and I made a 3-day roadtrip to Arthurs Pass - base camp for the so-called "Club Fields" skifields collection an hour outside of Christchurch.
We made the 5 hour drive to Methven (at the base of Mt.Hutt) on Tuesday 5th September - stopping over for the night before driving the final 1.5 hours to Arthurs Pass where we were to spend the next 2 nights...
Arthurs Pass is a picturesque small village located within the pass; surrounded by beautiful scenery, this was the most practical area to set up basecamp to tour the Club Fields.
Our first choice of skifield was Craigieburn, one of the most famous and linked back-to-back with Broken River - giving a good choice of terrain, we thought...
1 hours drive brought us up the access road to the ticket office, where we were introduced to the concept of "the nutcracker" - the method of lifting employed at all the club fields...

A nutcracker is a hinged clamp (attached to your belt) flicked over the rope in order to grip it, rather than the usual system of permanent handles affixed at regular intervals on the rope
It required a knack, doing it badly meant collossal hand strain and usually falling off halfway up!
We spent much of this day getting the hang of it, and this prevented us from exploring as far as we could - suffice to say there were many tennis-court sized patches of earth showing through, but Farmer & i managed to find some fantastic fresh lines down huge slush-fields!
Second day we made the journey to neighbouring Broken River, parking up to find we must drop our gear in an impressive wooden service lift, then make a half-hour walk up a long valley in our snow-clothing to reach the base - I get so hot my head spun, and I had to take time out to cool down and enjoy the panorama...
Having mastered the nutcrackers, we made much better progress and found the skifield to be more extensive, with a comprehensive system of lifts giving easy access to all portions of the main basin and a top tow traversing the top ridge to enter the next basin.

The snow was harder than at Craigieburn, but the coverage was much better and we found plenty of cornices and chutes to rip down.
Sporadic flat light would suddenly obliterate all definition, giving rise to some hairy moments, but we survived our second day despite tiredness.
We left Arthurs Pass on the 3rd day, and returned to Methven in order to drive up Mt.Hutt. Unfortunately on reaching the top, we suddenly realised some of the gear was missing, as it had fallen out the back near Methven... After deliberation we voted to backtrack and try to find the equipment - and so left, having seen the mountain, but not ridden it.
Some of the equipment was receovered, but not all, and we elected to leave Mt.Hutt behind as time had eluded us, and take an easier journey home.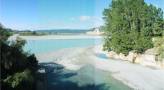 The weather was fantastic, and the drive back to Wanaka gave stunning vistas across the Canterbury landscape. We stopped at the Rakaia Gorge bridge near Methven to take in the breathtaking views, before returning leisurely to Wanaka.

A few days after we returned, CJ had her 28th Birthday - we held a BBQ in our garden, entertaining friends from work and town - the early darkness remedied with Tomu's skating spotlight, it went off and the last people tottered out the door at 11 - so we could close down without disturbing the neighbours.... Good job!

And lastly - longtime readers will be rather unsurprised to learn that I have snapped my new Never Summer snowboards Revolver, after about 3 weeks... whoops. I am returning it as we speak, and hoping to get it replaced on warranty - lets see how this goes...

Next - WanakaFest!

newsflash!

Happy Birthday to CJ on Tuesday 12th September!!!

Though its rude to ask a ladies age, I can tell you that we held an apres-ski BBQ in the upper garden, attended by many friends including the TC staff, Tim Andrews (our housemate from last year), Farmer and Rachel, Tassie Ben Tim Liz and Lil', and many others.

Had a wicked time with loads of food and drink! Many thanks to everyone who turned up and made it a great night! Cheers y'all!

Many happy returns CJ!!!

WanakaFest!!!

Tuesday September 12th saw the beginning of WanakaFest - Wanakas annual celebration of local culture, arts and activities - of particular note, the Cheapskates skateboard competition and street Rail Jam on Sunday, bringing the festival to a close.

The annual Cheapskates Skate contest had been cancelled the previous day due to high winds, but Sunday proved to be hot & calm - perfect for skating.
There was a large crowd watching the airs, flips and grinds thrown down before them. Most of the local riders were there but sadly very few pro's turned up.
Although not able to compete I rode between sessions; demo'ing streetboarding's alternative style of riding park to the crowd, with rail, quarterpipe and mini runs - before filming the competition runs and best trick jam.
Local twins Olly and Josh stole the grommets category, while locals Jesse, James Eagle and pro-skier Jossi Wells all skated hard out to try and take Best Trick award.
After 4 hours hard in the beating sun, streetboarding big hits for the crowd and filming the others skate - the results were announced:
1st - Jesse - varial double-fingerflip disaster (big quarter)
2nd - Jossi - inverted 360 (small quarter-to-flat)
3rd - James - huge air-to-tail (big quarter)
Top marks to Cheapskates for organising a good competition for the skaters, and a visual feast for the spectators!
I raced up to Snowpark, to join Farmer on the box rails and get some practise in for the most anticipated event of WanakaFest - the StreetStyle Rail Jam - later that evening.
WanakaFest '06 Streetstyle Rail Jam: selected entrants hitting a street-based rail for the enjoyment of the crowd - to win the Best Trick award. 12 snowboarders, 12 skiers - and all the pros they could find!
I had arranged for Tassie Ben, Farmer and Brian to enter, so we had a group - but in the event only Ben & me ran. On returning to town to register for the event, we found the rail in the process of being set-up, but nothing like we had been expecting...
A flat-down-flat boxrail had been reversed, then placed on an angle to form a down-up-down; a tricky proposition at the best of times (due to the likelyhood of hanging up by catching the board in the dip), made more difficult by the inclusion of a 5ft gap between boxrail and kicker. Registered riders stood around discussing strategies...
Suddenly the Rail Jam cranked into life - we were on!
A familiar feel to the drill; climbing the stairs to strap in, standing at the top of the run-in, a second to prepare - then Go! A hairy moment dropping in down the super-thin runway, compressing, then pumping off the kicker over the gap to the boxrail...
Competitors started small, getting a feel for the rail, but over the next hour tricks got bigger and bigger - until everyone was going full on, trying everything they could think of to massive applause from the onlookers... I spun 360 down the rail, and only just missed a 540 - there were spins, airs, pretzls, crashes, a frontflip and even a telemarker - the crowd were loving it!
After about 8 attempts each, the last runs were called and the judges announced the winner - 1 Best Trick for each category:
Skiers - Jossi Wells - 450-on to boxrail spin, 270-off
Snowboarders - Gai (Japanese) - 720 spin along the boxrail
The gathered crowd were treated to a display of Poi - flaming balls on chains spun gynastically about the body, while the riders left to chill out in the bars, and the organisers started disassembling the rail...
WanakaFest drew to a close for another year...