the austrian affair...

I left Morzine at the beginning of April for Bludenz, Austria; to see my friends Peter, Rene, Tomas and Daniel from Koh Pha Ngan, whom I had not seen for 15 months.

They say you discover many things on a long journey by yourself...

On my 7½ journey across Swizerland into Austria, I chiefly discovered that Austria has really crap road signs...

I arrived tired on Friday night, but happy to see my friends - and a weekend of parties, snowboarding and kicking back ensued. I stayed at Peters, an amazing appartment with views over Bludenz to the stunning mountain range behind - it was great to catch up with him, after the last time I had seen him in Wanaka.

Peter, Rene, Tomas, Daniel and Chris hadn't changed a bit since I left them, with the exception that Rene has more hair and Daniels english has improved radically as a result of his job teaching tourists snowboarding - it was great to be able to speak to him in depth this time.

The guys showed me a really good time, hosting a gathering for me at Daniels house followed the next night by one at Peters and a tour of the local nightlife in Bludenz. Peter and I snowboarded at Silvretta Nova, one of the fields in Montafon - the local ski area - and he took me round the older parts of town.

The weekend was over all too quick, and it was time to leave... I had a fantastic time seeing them all in their home town, experiencing a little Austrian culture, and will be giving them a shout again next year when we return to France...

Cheers guys ;o)

saturday 15th april

The spring weather has finally heated up, and with the exception of a few days of snowfall, temperatures have soared in the mountains, becoming baking hot for hours some days.
This increase in temperature has given rise to blue skys, long lunches and slush!
We have set about finding and constructing kickers - the slush giving a reasonably forgiving landing, and have taken a fair amount of footage over the course of the last week.

I have ridden over the Swiss boarder at Crosets for a while, after finding a valley kicker with a slush landing and a windlip with a 40ft drop.
Its quite an adrenaline-pumping feeling as a yawning chasm appears beneath your feet as you ride over the edge...

CJs riding has been improving consistantly, and she is now a strong rider - moving at the same pace as the boys and hitting all the jumps on the piste. Now shes pulling grabs; she has a really solid body position combined with good balance in the air, and a smooth landing technique. Her riding is in a different league now from her days in NZ...
After a recent snowfall I built a kicker over the Prolays cat-track gap with Matt and Guy from down the road. Landing in a seasons worth of snow, the kicker boosted you high into the air and over the gap into the untouched powder beyond...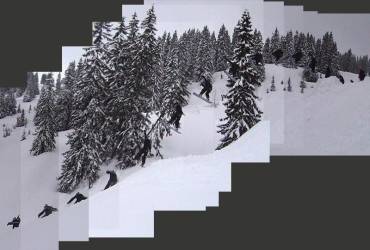 While this provided some great celluloid memories, the size of the gap made it more suitable for straight airs and less for tricks, so we resolved to build another kicker over a smaller portion of the gap, in order to throw down some tricks.

We spent about 3 hours making a double-kicker over a smaller portion of the gap (during which I got very sunburnt!) then rode it for the day.
Matt took prize for maximum steez with consistant melon grabs over the gap, while I stacked BS rodeos and Damo tried BS 360s.
A fantastic day, only marred by me going bright red 3 hours later, and suffering self-inflicted sensitive and scratchy skin all night after!
Meanwhile, Ian and I have teamed up our collective knowledge to run some Breakdance-vs-Capoiera sessions at the local sports centre.
As Capoiera forms the roots of many breakdancing moves, footwork and freezes that we know of today, it forms the ideal warm-up, followed by instruction on how to do the more dance-orientated moves by Ian. Everyone has enjoyed it, and hopefully we will get more sessions in before Ian leaves us next week...
I met K2's Pat Murier again for the first time since 1996? A hell of a long time anyway - met him previously at Warmwell dry ski slope for an exhibition when I was riding for Koala T sports in Bournemouth. Chatted in the Cavern for about half an hour - he was there with the Snow & Rock staff, including Stuart Langridge who I had been communicating with when working on their website at M.A.D Productions! Unfortunately missed talking to him, but funny how things come around...
A shout out to Mike from Tantrum board sports team and his family, who I met the other day. Tantrum is a board-riding brand sponsoring riders from skating, surfing, mountainboarding and snowboarding communities.
Anyway - the weather is good, so it looks like skating is on. Apparently there is a good park down in Thonon Les Bains on Lake Geneva 30 mins drive away, so I will hopefully return with footage, if the weather holds out.
Comin back atcha with a handful of trouble soon...